X Factor Predictions: First Live Attempt
I posted here my attempt to come up with a way of translating X Factor twitter traffic, both positive and negative, into vote share week after week. It depends on limited information on bottom placings (from the show itself) and top placings (mostly through articles in the Daily Star) and uses weekly trends to detect movements. Knowing whether an act was top/bottom 2 allows me to fix it in a range, and I take account of the fact that some acts have larger fanbases on twitter by weighting each act proportionally.
Today, November 20th, was the first live test of the model. Firstly there was one change from the previous week; I'd had to guess how Amelia Lily did by giving her the same weighting as Little Mix which put her at just over 30%; however a newspaper leak suggested that she was around 25%, so I decreased her weighting to hit this exactly. Still winning the vote, but not by much. When the twitter results were published I put them through the model, and posted the following on sofabet:
I have to rush so I've no time to write an article but I've put your findings through my model.
I've only made one change since last week; Amelia only got 25% instead of 30% according to the Star so I've moved her weighting down (still have her winning the vote, but only just)
I get the following vote percentages for this week:
LITTLE MIX 32.9%
JANET 31.8%
MARCUS 12.1%
CRAIG 9.5%
AMELIA 8.7%
MISHA 5.0%
One note of caution – Toby has changed the way little mix are recorded (adding 'lilmix'. Any changes from week to week will cause problems with my model, so I'd be interested to see the little mix figure withou 'lilmix' being included. So they are probably a strong second to Janet.)
This is a disaster from Marcus – I have him hugely down on last week. And although it's very tight, and does depend on that downweighting of Amelia, the figures do suggest that the biscuit boy will survive to dunk another day.
Good luck
Come the results show, it's revealed that Craig was last with Amelia next. My gut feeling? Disappointed. Amelia 5th was spot on (and many had suggested she would be well clear - I was certainly right that she was down there) but I had missed Misha's bounce out of the bottom 2, and had Amelia and Craig the wrong way round.
I looked carefully at the figures and the model, and made 2 changes:

Firstly, I looked to see if Misha could be moved upwards - I was able to increase her weighting slightly, but not by much as I had to keep her in the bottom 2 in week 3.
Secondly, I increased Amelia's weighting slightly to push her ahead of Craig. No problem.
This updates the full graph to: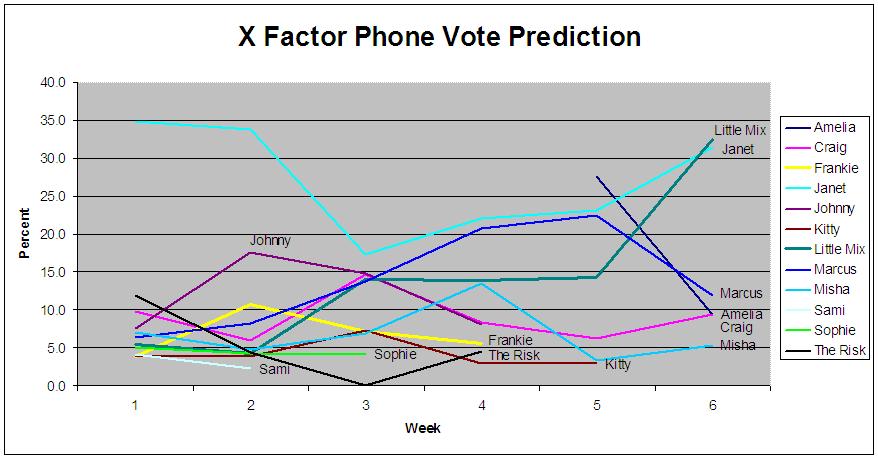 Three points to make:

Firstly, although I've been able to get Misha closer to the others than originally, there is no evidence in the figures for her not to come last. I've double checked, and she was behind Craig last week, and lost ground to him further this week according to the figures. Oops. The two big misses in my model (this, and wrongly having The Risk bottom with 0% in week 3 both involved very tearful VTs and it may be that twitter doesn't capture the sympathy and emotion that these videos convey. Lesson for the future.
What happened to Marcus? Last slot in the show, big production, lots of praise - and I have his vote halving in a week. This should be a serious worry for Marcus backers
Little Mix have shot up, indeed I have them winning the phone vote. This may be due to an advantageous change in how their tweets are recorded, new this week. But even so they look like contenders for the win for the first time.
As before, comments/criticisms/suggestions welcome to tpfkar@hotmail.com or in the comments box on sofabet.
And to see the second attempt at predicting the live voting via twitter, see here.