Back to front page
Sport
Overview
Much as I try not to be, I can be very competitive, and have serious interests in most areas of sport. I'm a Man United fan, (Yes I do live in Manchester and have been to see them play) but because they win most things they enter, I need to follow a club who are less successful, and for the last couple of years have been following the progress of mighty Gillingham.
I'm also into tennis and Formula 1, but haven't got much to say about them that hasn't already been said.
I've supported Man. United since I was little, and it's mainly been a big success story. The first time I went to see them play was on the 5th March 1995, when they entertained Ipswich Town. The score was a resounding 9-0. That match got me hooked on football, and ever since I've been following the ups (and occasional downs) of the Red Devils.
Their greatest achievement of recent years was when they won the UEFA champions league in 1998. A last minute equaliser and winner against Bayern Münich saw them to victory and an unprecedented treble of Premier League Champions, FA Cup winners, and champions of Europe. Great stuff.
This season, they won the Premier League comfortably, but didn't enter the FA Cup in favour of jetting off for Brazil in the World Club Championship. It didn't work out, and they got heavily criticised for it, but there would have been few critics if they had gone on to win the tournament. Real Madrid, the eventual winners knocked them out in the quarter-finals of the champions league.
Man. United have many key players. Some of my favourites include:
Fabien Barthez
In my opinion Barthez is one of the best 3 goalkeepers in the world, along with Peter Schmeichel and Edwin Van der Sar(well done Fulham!). He should command the United defence in the same way that Schmeichel used to, and always seems to enjoy his football. At the time of writing, France have qualified for the semi-finals of Euro 2000, and Barthez has looked imprssive throughout. If Manchester United want to win serious silverware next season, they will need to rely on Barthez to be a rock at the back. Having said that (now 2002) he's gone through a rough patch and showed a lot of character with all the stick he's been getting, but he's acted very profesionally, and he'll be the first team goalie for a few years yet, I think.
Andy Cole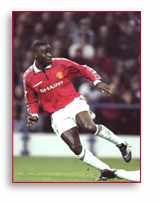 Andy Cole arrived at Old Trafford in 1995 when paying £7 million for a player actually meant something. His performances have ranged from the sublime to the average. On his day he is unbeatable, and does much more for the team than thump the ball in the back of the net, although it is a speciality. He has looked awesome whilst playing upfront with Dwight Yorke this season. However, with all the world class strikers at Manchester United, he will need to be at the top of his game to even get a regular place in the team next season. I hope that Blackburn does his talent justice, he will be very well remembered by MUFC fans.
Paul Scholes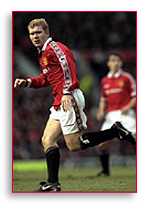 Paul Scholes, one of the finest products of the youth team, was one of the few England players to return from Euro 2000 with much credit, and some analysts have said England might have had a chance if they could call upon more players like him. He is deceptively quick and skilful, with power and aggression which can be used when necessary. He is reliable and cool under pressure, and is likely to be crucial in the Manchester United midfield next season.
Jaap Stam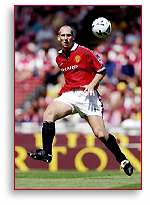 After an average World Cup '98, questions were raised about whether Stam was worth the £10.6 million paid for him. However his magnificent performances over the last 2 seasons have been magnificent, and he is possibly Ferguson's best signing (forgetting Cantona for a moment) at Man United. He is like a fortress at the back, and has a presence in the defence which is crucial for a world class player like him. Like all defenders he's prone to the odd slip-up, but he is likely to be one of the first names on Alex Ferguson's team sheet next season. He performed well in Euro 2000, despite an injury, and Manchester United's defence has not been the same without him this season.
David Beckham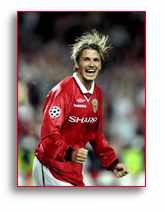 Well I suppose I had to mention him, didn't I? His football speaks for himself, and he fully deserves his reputation as one of the best football players in England. He knows what he is good at-crossing-and keeps on playing to his strenghs. He is an asset to Manchester United and England. However he is often the subject of criticism about other areas of his life, and he needs to let his feet do the talking. Beckham is another player who commands an immediate place in the starting line-up.
Who?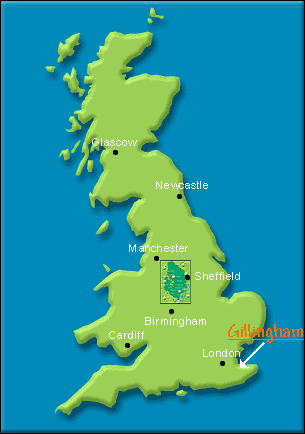 Gillingham football club have just achieved promotion to the first division for the first time in their history. From nearly dropping out of the football league a few years ago, they are one of the unsung success stories of lower league football clubs over the last few years.
Where?
Gillingham is in Kent, near Rochester and Chatham. It houses the only football league team in Kent.
Why?
I just decided to follow them one day a few years ago, and they were about 19th in Division 3. They now stand two divisions higher! I'd love to see them play, especially at home, although I did get to see a lot of their play in their FA Cup run this year. (See below)
How?
Gillingham first played in their present stadium in 1893, although all sections have been upgraded since. In the 1980s, players like Steve Bruce, Tony Cascarino and Mickey Adams played for the club, and they nearly got promoted to what is now Division 1. However the club struggled, and in 1993 only just survived in the league. In 1995, the club went bankrupt, and nearly closed. However Paul Scally, now the chairman, came to the rescue, and with his cash injection, Gillingham were promoted back to Division 2 the next season. In 1999, they made the excellent signing of Robert Taylor for £500,000, and they got themselves in a position to gain promotion to Division 1. They reached the playoff final against Manchester City, and played a great game to lead 2-0 in the 89th minute, Robert Taylor getting on the scoresheet. But it all went wrong as Man. City scored 2 at the death, and won on a penalty shootout.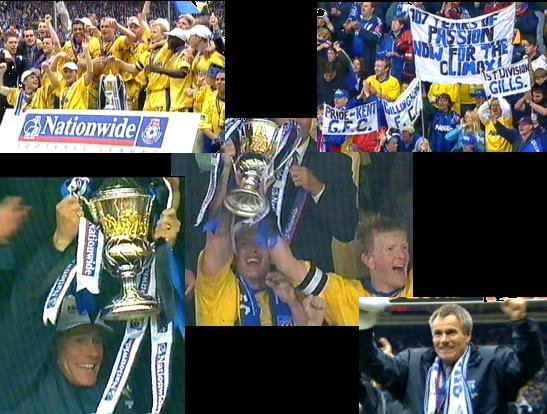 After a poor start this season (99-00) Gillingham were on top form, then sold Robert Taylor for £1.5 million to Manchester City. However Gillingham again progressed to the playoffs. Their other notable success this year was in the FA Cup. After overcoming Cheltenham and Darlington in the early rounds, they drew Walsall in the 3rd round. A replay was needed, but Gillingham marched on. A home match with Bradford was the next obstacle, and Gillingham made a name for themselves by winning 3-1. In the last 16, Sheffield Wednesday visited, and got the 3-1 treatment again. A trip to Chelsea in the quarter-finals was always going to be tough, and despite a 5-0 defeat, it was an amazing and profitable cup run.

In the playoffs Gillingham edged past Stoke, and in the final beat 10-man Wigan, the winner coming 2 minutes from the end of extra time, to grant promotion to Division 1. Pictures of the Wembley victory are above.
So What?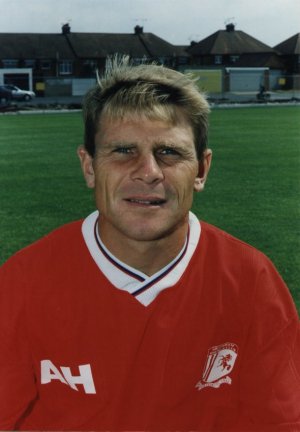 Gillingham faced a challenge to stay up in Div.1, but passed with flying colours. They satnd a few points of the premiership playoff positions-impressive for a club of Gillingham's size. They've also gone on yet another impressive FA Cup run. The player-manager in Andy Hessenthaler. He knows the club well and has a managerial perspective last season, but will face a daunting challenge to maintain Gillingham's progress next season.

Check out the links page for some good sites about Gillingham.